Instantel Seismograph Rentals
SubTerra maintains a large fleet of Instantel® MiniMate© and MicroMate© Seismographs & Automated Monitoring Systems available for lease in daily, monthly, or annual terms.
Instantel Seismograph Specifications
Four recording channels for one triaxial geophone (ISEE or DIN) and an ISEE linear microphone.
Dedicated function keys and intuitive menu enable quick and easy setup.
Sample rates from 512 to 65 S/s per channel, independent of record times.
Continuous monitoring means zero dead time between events, even while the unit is processing.
Instantel Histogram Combo™ mode allows capturing thousands of full waveform records while recording in histogram mode.
Auto Call Home™ feature automates remote monitoring applications.
Non-volatile memory with standard 8000-plus event storage capacity.
Records full waveform events over two hours long.
Fully compliant with the International Society of Explosives Engineers "Performance Specifications for Blasting Seismographs."
Ethernet® interface for high speed communications and data transfer. (Auto Call Home™ is not supported over the Ethernet)
USB Connectivity for downloading events and to connect to external devices such as powered USB Hubs, Modems, Memory sticks, Printers or a GPS.
Touch Screen: Large, high resolution color graphics touch screen
Easy to read and navigate menu structure
Context Sensitive Icons: Icons are only shown if they are relevant to what you are doing
Short Cut Icons: Fast, one touch access to the most commonly used features
Context Sensitive Help at your fingertips
Integrated Keypad: Large 10-key interface with dedicated function keys
Remote Access: Use Instantel's Auto Call Home program for easy, remote access to your monitor and data
Variable Sample Rates: 1024, 2048, and 4096 samples per second (S/s) for each channel
Full Waveform Event capacity with the standard memory, store up to 1000 events of one second duration at sample rates up to 2048 S/s.
Battery Life: 10 days of monitoring (15 day option available)
Record Modes: Waveform, Waveform Manual, Histogram and Histogram Combo Record Modes
Monitor Scheduler: Assign different setup files, scheduled self checks, scheduled Auto Call Home times and when to start and stop monitoring
Full Waveform Event Analysis: Time of the event, trigger source, peak particle velocity (PPV) for each vibration channel, peak air overpressure, zero crossing (ZC) frequencies, peak vector sum (PVS), maximum acceleration, maximum displacement and more, all available on the unit in the field.
Rugged Design: Field rugged and durable design with a fully sealed top panel, non–corrosive connectors, and sealed electronics to enhance water resistance
National Frequency Analysis Standards: Supports numerous Compliance Reports – select the desired standard for inclusion on the hard copy field reports
Optional Remote Alarm (optional Auxiliary I/O required): The Remote Alarm allows the Micromate to control two external devices such as sounder or strobe lights.
Optional External Trigger Cable (optional Auxiliary I/O required): Use the optional external trigger cable connected to the auxiliary I/O connector to trigger the unit at the same time as an event occurs
Optional GPS: Connect the compatible Magellan Explorist 310, Global Positioning System (GPS), to the Micromate to download and include the vibration source and sensor location coordinates on event reports.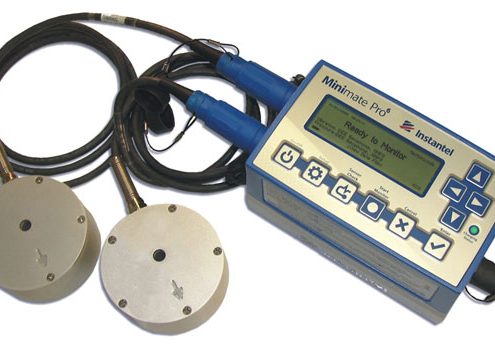 Range of Applications:
Blast-monitoring or compliance
Near-field blast analysis
Pile driving
Construction activity
Demolition activity
Train monitoring
Bridge monitoring
Structural analysis
Underwater blast monitoring
4 or 8 channel data acquisition
Remote monitoring & Instantel Autocall Home
The Instantel Minimate Plus has become a favorite of Contractors,Consultants, Engineers and Blasters because it offers unrivaled features and versatility in a rugged and easy-to-use package.
Versatile – When used as a compliance monitor, the Minimate Plus is a perfect fit in any monitoring application.  It is available with external ground sensors for maximum flexibility, or with the geophone components housed in the case, for a compact and economical system. You also have the option to add four more channels, so you can have two complete, standard seismographs with a single monitor.   For the most demanding monitoring applications use Instantel's Blastware ® Advanced Software to unlock the full capabilities of the Minimate Plus. You can configure the velocity and microphone channels as independent non-sensor specific data acquisition channels for a variety of sensors including hydrophones, accelerometers and even crack monitors.
Intelligent -Instantel's Autocall Home feature allows the monitor to automatically transfer event files from the  instrument to the office via Cellular, Satellite, RF, GSM, or standard land line modems. From there, the Blastware
Mail feature of Blastware distributes the information to multiple e-mails, internet or any text messaging devices.
Easy to use -Even with all of these features, the Minimate Plus is still easy for anyone to use. A high-contrast LCD,   eight-key tactile keypad, coupled with simple menu-driven operations, provides complete control and confidence.
Key Features
•  Histogram Combo TM mode allows capture of full waveform records while recording in histogram mode.
• Autocall Home feature automates remote monitoring applications.
• Sample rates from 1024 to 16K samples per second, per channel with up to 65K available on a single channel.
• Available 8-channel option allows for two standard geophones and two microphones to be operated from one Minimate Plus.
• Non-volatile memory with standard 300 event storage capacity (optional 1500 event capacity).
• Records waveform events up to 500 seconds long.
• Zero dead-time between events means you never miss an event.
•  Αny channel can be matched to a wide variety of sensors – geophones, accelerometers or hydrophones.